Steve R. Campos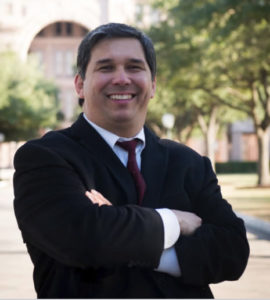 Steve R. Campos has over 27 years of experience in a wide array of civil law, concentrating in family law and probate. In addition, his expertise includes wills and estate planning, incorporation, small business representation, contracts, real estate, mediation, and civil litigation.
A pioneer in family law, Mr. Campos' career is distinguished not only by the excellent representation he provides but also by his leadership and work in developing new approaches to family law to address marital disharmony in ways short of divorce. To that end, he formed Divorce Alternatives, Inc., which provides lawyers across the country with innovative tools to help preserve marriages. He also developed the Family Records Organizer, which has been a useful organizational tool for his estate planning and probate clients, and which has been sold nationwide.
Mr. Campos grew up in El Paso, Texas, where he graduated from El Paso High School in 1979. After sowing some wild oats for the first year and a half at UTEP, Mr. Campos got serious about life and his studies, and in 1986 he earned a business degree from Stephen F. Austin State University, where he received the Outstanding Management Graduate award and graduated magna cum laude. Mr. Campos studied law at the University of Texas School of Law and earned various awards and recognitions, including the Liddell, Sapp Leadership Award and induction into the Board of Advocates. While at UT Law he was also selected as an Outstanding Young Man of America.
After graduating law school in 1989, Mr. Campos began his career as an associate with the Austin law firm of Fowler & Fowler, which was then managed by Robert Penn Fowler (currently Of Counsel to The Fowler Law Firm). In 1994, Mr. Campos formed Steve R. Campos, P.C., and eventually partnered with Jack Cunningham, forming Campos & Cunningham, LLP. As a boutique firm that excelled serving individuals, families and small businesses, Campos & Cunningham acquired a reputation for integrity and compassionate service, and was profiled in the 2005 book Austin Lawyer: A Legacy of Leadership and Service. Dedicated to practicing law ethically, Steve Campos achieved great success in no small part due to his clients' enthusiastic referrals and recommendations. His firm briefly merged with Henslee Fowler Hepworth & Schwartz, before joining The Fowler Law Firm in 2007, where he served a growing number of clients in Central Texas for nine years.
In November of 2016, Mr. Campos and Mr. Cunningham re-formed Campos & Cunningham, LLP, where Mr. Campos continue to serve all his clients the high professional and moral standards with which he has practiced his entire career.
Mr. Campos co-hosts a weekly, call-in radio program on La Palabra, AM 1440, a Spanish, Christian radio station, where he provides legal help and information to the community on legal topics that affect the family, such as divorce, divorce alternatives, custody, child support, adoptions, wills, probate and real estate. Mr. Campos serves as an active member of the Christian Legal Society of Austin, having been a long-time board member and officer in various roles, including past and current president. He is also active in his church and has used his musical talents in piano and guitar in ministry.
With his wife Julie Kelm Campos, a life-long resident of Austin, and their children Cara and Collin, Mr. Campos remains active with the Austin community, including having volunteered at the Travis County Jail for over a decade, and strives to improve life in the city through his private practice, his innovations, and his service, giving all the glory and thanksgiving to the God he serves. "But God forbid that I should glory, except in the cross of our Lord Jesus Christ." Galatians 6:14a